Natural Fiber Research Group
Background of the Research
In this natural fiber research group, we are currently collaborating with local people of Bone Bolango Regency who have indigenous knowledge (such as the knowledge of creating a traditional net with the fibers of the sugar palm stalks around them), officers of the local government (Bone Bolango Regency), the researchers of SRIREP and State University of Gorontalo, and the private sector such as ESPECMIC Co., Lt. in order to develop a sustainable new industry which will also help to reduce the poverty problem. Currently, in West Tulabolo Village, the villagers, including those who work in the mine, have started the Moopiya Group, and work together with us to manufacture goods using the Sugar Palm.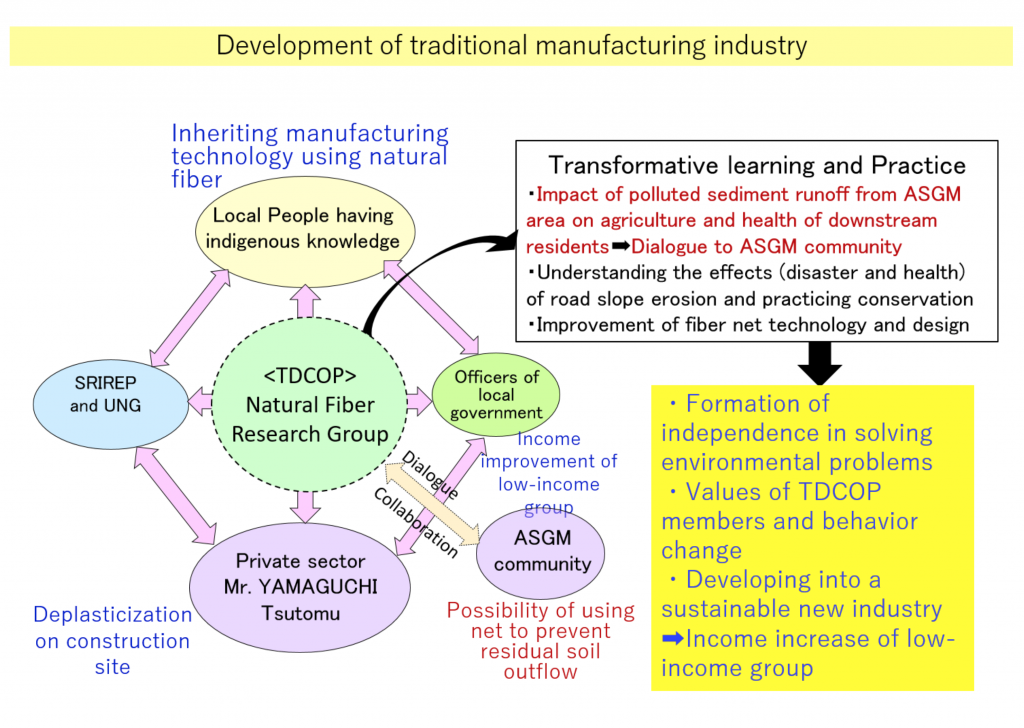 The world is now aiming to move away from the use of plastic and is shifting towards the use of natural fibers. We are working together with Bone Bolango Regency and Gorontalo State University to examine potential sales routes and uses for these Sugar Palm nets. There are plans for them to be used both inside of Indonesia and in other countries to prevent landslides and sediment runoff. Moreover, we will also communicate with the Artisanal and Small-Scale Gold Mining (ASGM) community about the possibility of using the net to prevent the residual soil outflow.
Plan
The natural fiber research group will perform the following "Basic Research" activities.
 Learning of the history, method, and design of the natural fibers

Engaging the dialogue with local people on the usefulness of the natural fibers

Identifying the technical and design issues related to sugar palm fiber net
We will perform the following "Transdisciplinary Practical Research" activities.
Reveal whether the activities of TDCOP will directly lead to the sustainable development of the traditional manufacturing industry and its successor

Elucidating how the effects of TDCOP formation are transmitted to the society

Co-creation of new design development, market development, and improvement of natural fiber products
Towards a Mercury-Free Society
The gold mining work, which uses mercury, in Gorontalo is beginning to shift towards a new kind of work that uses natural fibers.
The goal of the SRIREP Project of the Research Institute for Humanity and Nature is to identify a way to resolve the problem of mercury pollution from ASGM -the larger context of the poverty of the people in that region. Our project members will continue to work together with the locals to putting this solution into practice.
Our Mission
Why are we involved in net-making using the fibers of the sugar palm in a rural area of Indonesia? The answer to this question comes from an understanding of the daily lives and livelihood of the people who live there.
We want them to realize that escaping poverty by risking their lives with illegal gold mining is not the way things need to be.
We want to show them that there are new possibilities in the future of their children.
Downloads / ダウンロード
Pamphlets are available to download in two different language versions.
For any inquiries call us: (+81) 075-707-2357 (Japanese) & 075-707-2344 (English)